Yoga Benefit #1: Yoga Detoxifies the Body
By: Tari Prinster
Excerpt from 'Yoga for Cancer: A Guide to Managing Side Effects, Boosting Immunity, and Improving Recovery for Cancer Survivors'.   
Detoxification is the metabolic process by which toxins, or harmful things, are changed into less toxic substances and flushed from the body.  Similar to how an environmentalist would remove pollution from a lake by flushing it with fresh water and directing drainage. Yoga is a powerful tool in the cleansing or detoxifying of our bodies.
Yoga borrows from the science of physics using the principles of movement, gravity and resistance to achieve this goal. All of our body's systems participate in this cleansing process, but primarily the lymph system. Think about the lymph system as the body's plumbing service and trash can for removing potential cancer cells, toxins and other waste (garbage!).  However, the lymph system has no organ that circulates its fluids, so it depends on the movement of muscles-especially the heartbeat, the breath and gravity-to flush waste from the body.  We use yoga to encourage lymphatic flow by placing the skeleton in certain postures, then moving them in specific patterns with our muscles.  Because muscles need more blood flow when moving than when resting, movement increases the heartbeat.  The demand for more blood results in a more rapid movement of blood being pumped through the cardiovascular channels located throughout the body.  Since the lymph system parallels the cardiovascular system, lymph fluid also flows better when blood is moving more forcefully and quickly.
The largest lymph node "waste" collector is the thoracic duct located in the body's center. The thoracic duct is the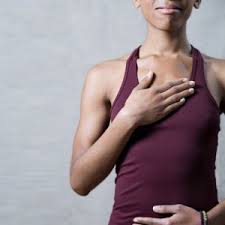 best kept secret of yoga and cancer experts. This central powerful vessel starts at the top of the sternum, reaching all the way to the small intestines.  Proper diaphragmatic breathing will move lymph fluid from the arms, legs, and head toward the thoracic duct.  From there, lymph fluid is cycled through the body's laundry system and toxins are excreted, sweated out or otherwise expelled in the proper, well-designed process. Simple movements coordinated with diaphragmatic breathing does this. No magic. Just yoga.
The y4c methodology uses these three familiar physics principles in specific poses and with simple vinyasa sequences that involve actively moving muscles and bones. However, even seemingly passive restorative poses create subtle movement that directs the circulation of lymph and blood. By placing the head below the heart in restorative poses, gravity reverses the flow of body's vital fluids. In addition, such poses encourage specific muscles to lengthen and relax. In itself, this may not appear to be a cleansing or detoxifying process, but considering that post-cancer treatment long-term side effects can leave a survivor's body riddled with scar tissue and missing organs, creating obstacles to feeling and functioning normally, these poses are very liberating as they encourage passive movement of muscles and fluids.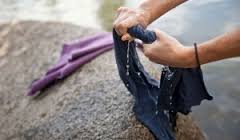 Finally, yoga can clear, cleanse and "detoxify" the mind, too.  A cancer survivor lives with the fear of cancer returning, and this daily anxiety is a mental toxin.  By applying the same physical techniques, we detoxify the mind by using the movement of the breath, by relaxing into gravity in a restorative pose, and by managing negative thoughts while meditating. The biology of relaxation is based on the principle of reestablishing emotional balance. Left to itself, "the body will naturally relax when tired and arouse itself after rest."1  Not so the mind. Yoga's meditation tool can help to 'refine' the process of ushering out harmful, unnecessary and emotionally demanding thoughts. Even for a second, this can be a powerful benefit.
Let Pema Chodron's words constantly irrigate, dilute and detoxify your thoughts. 'No feeling last forever.'2
Sources:
1. How Meditation Heals: Scientific Evidence and Practical Application, by Eric Harison, Ulysses Press, 2000
2. The Pocket Pema Chodron, Pema Chodron, Shambalah Press, 2008
___________
Tari Prinster, a cancer survivor, master yoga teacher, and author of Yoga for Cancer, developed Yoga4Cancer (y4c) methodology using contemporary research on cancer and yoga. Tari has trained more than a thousand yoga teachers and worked with thousands of survivors in her weekly classes and retreats. She is the founder and president of the Retreat Project, a nonprofit whose mission is to help underserved cancer survivors through yoga.
Tari is a regular presenter at Yoga Journal Conferences, recipient of the Seva Good Karma Award 2015 and was featured in the film Yogawoman.
All ten yoga benefits can be found at: https://y4c.com/category/benefits/