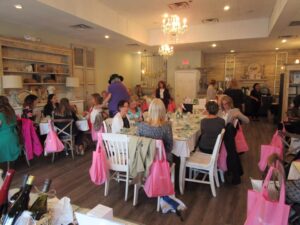 The AiRS Foundation hosted its first annual High Tea Fundraiser at the Chocolate Angel Tea Room in Richardson, Texas on April 13, 2019.
The event gathered over fifty AiRS Foundation supporters for an afternoon high tea with a traditional menu of sweets, finger sandwiches, and specialty teas, and included a silent auction and fashion show.
The afternoon also included a presentation by AiRS Foundation founder, Morgan Hare, thanking the attendees for their support and informing them of the importance of breast cancer survivors being aware of all their post-mastectomy options.
With the help of the high tea sponsors, Allergan, DMAC General Contractor, eraclea, The Griffin Family, The Rogers Family, Spa 810, Zo Skin Health Inc and Barb Gatti, Event Chair, of Marketing Successories, the event raised more than $6,000. Funds from the event will go directly towards helping women across the country with breast reconstruction after mastectomy.
"This event successfully brought awareness to what the AiRS Foundation is doing to advocate, educate and support women across the country," said Tara Null, AiRS Foundation Executive Director. "We look forward to hosting the event again next year and using it as an opportunity to educate and reach more women who need our help."