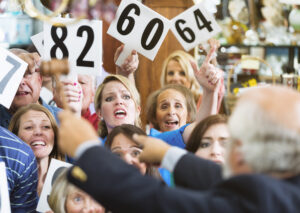 We're excited about your interest in hosting an auction or raffle benefitting the AiRS Foundation.
Here are a few considerations, ideas and details to get you started.
Auction/Raffle Ideas
Gather items that you can auction or raffle off!  Think about your audience and include services or experiences they might be interested in.  Ask for donations from your community (small businesses, restaurants, hotels, salons, etc…).  You can also purchase items (possibly at a discount) and plan on selling more raffle tickets than their cost to you; the difference is the donation!
There are some virtual apps both free and paid that can assist you in raffles and auctions.
Raffle
Depending on the value of the item(s), set a price for the raffle tickets that you think people would be willing to pay.  Be sure to set a goal for how many tickets need to be sold to be sure of a profit.  Raffles are often connected to another event where people might be present for the drawing.  However, this can also be done via video on Social Media!
Traditional Raffle:  Draw raffle tickets for the prizes and announce the winners
Make a Choice Raffle:  Set up individual containers for each item you're raffling off.  Let the participant choose which item they want a chance at by putting their tickets in those containers.
Reverse Raffle:    As you draw, numbers will be eliminated, leaving one winner in the end.  You'll have prizes for set draws (like the 25th, 50th, 100th ticket). Your grand prize will be the last thing you raffle off!  When there are just a few tickets left, you could give the ticket holder the option of auctioning off their ticket!
Silent Auction
Silent Auctions work great in conjunction with another event where people will be milling around and can look at all of the items.  Have bid sheets with descriptions of the items and a set minimum bid.  Participants will write their name/number and bid amount on the sheets, paying out at the end.  This can also be set up and left in a secure location for a set period of time, like in the lobby of a business.
Live Auction
Find a professional or someone charismatic that is willing to be an auctioneer.  They will present the items in a set order (known to the participants).  The participants will have registered to receive a bidder number.  Items will be paid for and picked up at the end of the event.