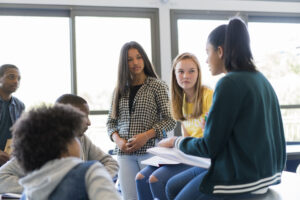 We're excited about your interest in hosting a school event benefitting the AiRS Foundation.
Here are a few considerations, ideas and details to get you started.
Ideas for School Events
Get student body groups involved in an event to raise money for the AiRS Foundation.  Students can find personal, educational and resume value by organizing and executing a fundraiser for community service.  Every school has a different policy on these items, so be sure to get approval!
 Here are some ideas of things you can do at your school:
"Pink Out" at a Sporting Event
Design and sell t-shirts that the student body and supporters can wear during a sporting event, claiming it a "Pink Out".  Find a deal on t-shirt production to increase your fundraising profits.
Sell plastic bracelets to students
Design and sell plastic bracelets for $1 or more.  These inexpensive bracelets show support, can be personalized for the school, and are a fun and inexpensive way to raise money.  Students, staff and parents love wearing these!
Sell Temporary Tattoos
Design and sell temporary tattoos that students can wear to pep rallies or sporting events.  These can be personalized and ordered online.
Jeans Day Passes
A lot of schools don't allow their staff to wear jeans on a daily basis.  You can sell jeans day passes for $5 or more, allowing the teachers and staff to have a "casual day" and wear their jeans when they please!  What a treat for them and a great way to raise money for AiRS!
Collect Change for a Cause
Spend a week collecting change!  Pennies, Nickels, Dimes and Quarters can add up quickly.  Create a competition to see which classroom can collect the most throughout the week; focusing on a different coin each day.  Most parents are happy to send in that loose change!
Students Buy Rewards
There are so many things that you can offer to students that cost little to nothing and can raise money for AiRS!  Pencils, homework passes (or Oops passes), passes to wear a hat, principal for a day, eat lunch with a teacher, etc…